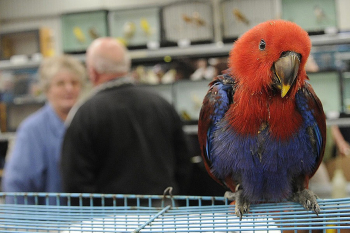 The Gunnedah Bird Sale & Expo has grown to be one of the largest sales on the east coast with bird enthusiasts travelling from all around Australia to exhibit, display and sell Birds of all varieties.
More than 100 exhibitors are anticipated at attend the Sale/Expo with more than 2000 birds displayed and for sale.
A number of Trade Stands are set up in the Grittith Pavillion to browse goods on display and the Namoi Valley Aviculture Club invites all bird enthusiasts to come along and enjoy a wander around the Sale.
Basketball Stadium (for birds only)
Bird Entries received Friday evening from 5.00pm - 7.00pm & Saturday morning from 7.00am-9.00am.
Doors open to public - 10.00am, Sale starts 10.00am - Finishes 2.00pm
Selling of birds prior to 10.00am is strictly prohibited!
Bird Entry Fees $1.00 per bird - sell your own. The Sale has a 4 birds per box rule no exceptions for anyone. On site SECURITY WILL BE PROVIDED.
Griffiths Pavillion adjacent to the Basketball Stadium will host the Trade Stands and is open from 8.00am.
Admission to the Sale in the Stadium is $5.00 per person.
A canteen with hot breakfast is available from 7.00am and a Coffee Van will be on site.
For all enquiries contact Adrian on 0400 045 987